Prison Officer to Operational Support Grade (OSG) Offer Route
Ministry of Justice may offer 'alternative roles' to candidates who are unsuccessful in passing the prison officer online assessment centre (OAC). This is only available on specific recruitment campaigns where HMPPS can assess the criteria for the alternative role as part of the assessment process for the initial role.
You have applied for a campaign which will not only assess you against the key criteria to become a prison officer but will also determine your suitability for an operational support grade (OSG) position.
This process is outlined below: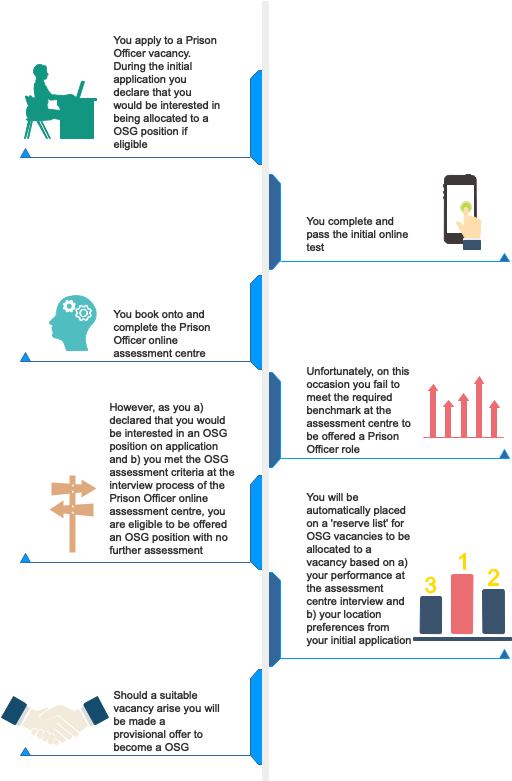 If eligible to be offered an OSG role you may be allocated a post based on merit score (based on performance at an online assessment centre), location preference (taken from your prison officer application) and available vacancies at the time of allocation. If no suitable vacancy is available, you will be offered a place on an OSG reserve list for potential drawn down to a suitable vacancy if one becomes available over the course of the following 12 months.
Frequently Asked Questions
What is an operational support grade (OSG) role?
As an Operational Support Grade (OSG), you are part of a team undertaking tasks and helping the prison run safely and smoothly. This takes teamwork and everyone has a role to play. You don't need any previous experience to be an OSG. We will give you all the training you need. The variety of your work keeps the prison moving. You will play a key role in keeping it safe and secure at all times.
What will my starting salary be in an OSG post?
Current Salaries are:
Inner London - £31,165
Outer London – £29,268
Other Locations – £25,626
The salary figures quoted are for a 37 hour working week inclusive of a 20% unsocial hours working allowance.
Is there a route to progress from an OSG to a prison officer at a later stage?
As part of our commitment to staff development, we continue to make it simpler and faster than ever for OSGs to become prison officers and youth justice workers through our fast track scheme. OSG to PO fast track | HMPPS (osgfasttrack.co.uk) provides more information.
The OSG role will give you significant knowledge and experience of how a prison operates. It also provides a gateway to a wide range of other prison jobs. Many of our OSGs choose to progress to become a prison officer or move into other roles such as instructor positions, waste management (working with and training prisoners to reduce, reuse and recycle in the prison) and catering (training prisoners in a range of catering skills). You can find out more here: Operational support grade - Ministry of Justice
Can I still apply for a prison officer position in the future?
Yes, you can re-apply for a prison officer position after 6 months when your online assessment result will expire and be reset.
Can I declare a location preference?
OSGs work across the entire prison estate, we will use the prisons included in the advert for your prison officer application in order to allocate you to a potential OSG vacancy.
Will I receive training to become an OSG?
As an OSG, you will receive paid on the job training which will focus on prison security and safety procedures. You will receive ongoing, local training including personal protection safety training. This is designed to give you an increased understanding of keeping safe when working in a prison. The training you will be offered adheres to HMPPS policies and procedures. It also includes relevant health and safety and security procedures.
Will my terms and conditions differ to those on offer for a prison officer?
Both roles share a number of benefits such as:
Generous annual leave package
Membership of the Civil Service Pension Scheme
Free access to gym and onsite sporting facilities
Access to a range of discounts including the Blue Light Card Scheme
What shift patters will I work as an OSG?
Most prisons work with a changing shift pattern of an average of 37 hours a week. This will include working some nights, weekends and public holidays (these days are added to your holiday allowance).
Shifts usually follow regular hours although the start and finish time may vary depending on your prison. The frequency of night shifts also varies depending upon prison. Nights are worked in a seven-day block and are followed by a week of rest days. Examples of shift patterns can be found here;Operational support grade - Ministry of Justice
Will my other applications to join HMPPS be affected if I accept this OSG role?
No. Any other applications will be progressed separately from this application and will be assessed on their own merit.
Do I have a choice in accepting this role?
Only candidates who clearly express on their application that they would be interested in an OSG role will be considered if they meet the pre-determined eligibility. You can also withdraw your application at any time.